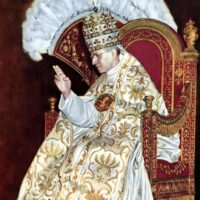 1949, Pie XII dans la Sedia Gestatoria lors d'une messe commémorant le 10e anniversaire de son couronnement papal, domaine public, wikimedia commons
Descriptif :
The GLOBALVAT project seeks to access data of exceptional value to history and the social sciences – namely, the Vatican archives on the pontificate of Pope Pius XII, opened in 2020 – and to harness it as a resource for twentieth-century world history. Beyond the Second World War and purely ecclesiastical matters, this previously unseen collection sheds new light on a wide range of subjects and places, which the project will study with regard to a central issue: how did the Catholic Church commit to rebuilding a world destroyed by war through its involvement in numerous areas, from the reorganization of international relations to the redefinition of human identity? The project aims to answer this question by using a multi-scalar approach to study three areas – the international system, the regulation of society, and human identity – and will also include the creation of a cross-cutting database.
Led by an experienced and close-knit multidisciplinary team and backed by a solid university consortium, the GLOBALVAT project aims to provide a resource and training platform that will enable the French research community, in collaboration with its network of colleagues abroad, to play a pivotal role in this international field of research. In order to achieve this and to generate a sustainable dynamic, the project will span four years and consist of five work packages. In addition to general tasks, the project will focus on research into these complex archives, whose access it will facilitate either directly, via field assignments, or indirectly through the creation of a database on the pope's audiences, the organization of joint scientific events, the training of young researchers, and the production of a wide range of deliverables.